Louis Rainville
Prosthodontist, McGill University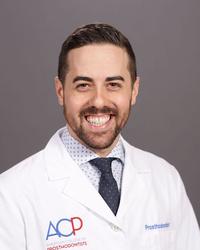 Dr. Louis Rainville received his Doctor of Dental Medicine (DMD) degree in 2013 from the Université de Montréal. In addition to his role of President of the student body, he graduated with Honors, receiving the American College of Prosthodontists award, the Academy of General Dentistry award, and the Micheline-Blain award presented by the Association of Dental Surgeons of Quebec (ACDQ).

After graduating from dental school, he then completed a General Practice Residency at McGill University - SMBD Jewish General Hospital, where he was Chief Resident.

From 2014 to 2016, apart from practicing full-time in private office, he had the opportunity of teaching part-time with the GPR program at McGill University.

In order to pursue his passion, Dr. Rainville moved to Minneapolis in June 2016 to complete a 3-year specialty program in Prosthodontics at the University of Minnesota.

Dr. Rainville now maintains a private practice limited to the planification and restoration of complex rehabilitation cases, including the replacement of missing teeth (implants, bridges, removable prostheses) and cosmetic treatments (veneers, crowns, complete rehabilitations). He also teaches part-time at the Université de Montréal and McGill University.

Dr. Rainville is board certified in Canada and America, being a Fellow of the Royal College of Dentists of Canada and Diplomate of the American Board of Prosthodontics.