APC members in odd places
Polar Prosthodontics CE course offered
(Contributed by Dr. Izchak Barzilay from an article written for the Academy of Prosthodontics newsletter)
Several years ago, I had the opportunity to meet with Academy of Prosthodontics fellow Antonio Bello and Dr. Evangelos Rossopoulos (a prosthodontist in the Los Angeles Area), to discuss points of interest. We started discussing different places we?d like to visit around the world and found it interesting that each of us at some point in our lives wanted to visit the North Pole. We weren?t sure exactly what there was to do up there, but figured we just wanted to get there. This being the case, we started researching the possibility of actually traveling to the North Pole. We were not sure exactly what prompted us to consider the North Pole as a travel destination, but felt it would certainly be something that we could be proud of. We tried to convince others to join us but most people (including our spouses and families) thought we were crazy and had probably sniffed too much acrylic monomer over the years.
We had only be a three week window when we could travel and in the circumstances, we enlisted the help of a group called Polar Explorers, situated in the Chicago area, who specialize in polar explorations (both poles), Greenland, as well as other adventure destinations. I met with Rick and Annie from Polar Explorers and we discussed the pros and cons of travelling through Canada vs Norway. A decision was made to travel via Norway to the pole so that we could experience all the high arctic had to provide. After dealing with the financial issues associated with such a trip, we booked and started the planning process. Another University of Rochester grad, Dr. Roberto Sanchez Woodworth, decided to join us on this adventure.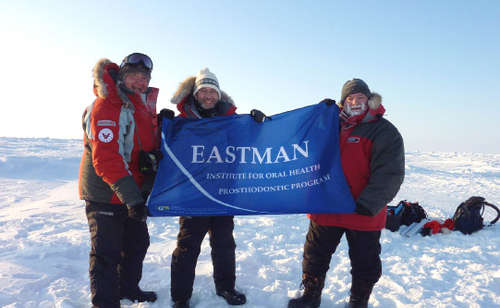 We felt that this trip would be a good opportunity to arrange for some corporate sponsorship in return for photographs of company flags at the pole. The companies were quick to point out that private sponsorship was not on the cards so we quickly jumped on this and arranged for company sponsorship with donations going to the UofR-EDC prosthodontic department. Sponsoring companies included 3M-Espe, Biomet 3i, and Discus to name a few.
The four of us met in Oslo on April 1, 2011. While in Oslo, we had a chance to tour the city and continue with our strenuous training regime that meant eating at some excellent restaurants and partaking in some wonderful local beverages. As a group we felt that part of our training should include us getting used to local cuisine and bulking up because of the harsh conditions at the pole. Some of us needed more bulking up that others. As such, we ate in the finest restaurants and enjoyed only the finest that Oslo had to offer. We felt it would be important for us to strengthen ourselves, both mentally and physically and with this being the case, food became a very important part of this expedition.
On April 3, we packed up our gear (this included Cuban cigars, tequila, ouzo, buffalo fire sticks, Antonio?s leather shoes together with galoshes and oak shoe stretchers. Oh, and chocolate bars) and headed to the Oslo airport. At the airport, we boarded an SAS jet and flew to Longyearbyen. This town is situated in Svalbard (Spitsbergen), an archipelago in northern Norway. It is located at the 78th parallel (like northern Greenland) and is governed by Norway. The town has a population of about 2000 people and we were very surprised at how modern this town actually was. When we arrived at Longyearbyen, we were immediately taken to our hotel to try on our new cold weather gear and then we were taken to our snowmobile depot where we were outfitted with snowmobile gear and snowmobiles for our 3 day ride.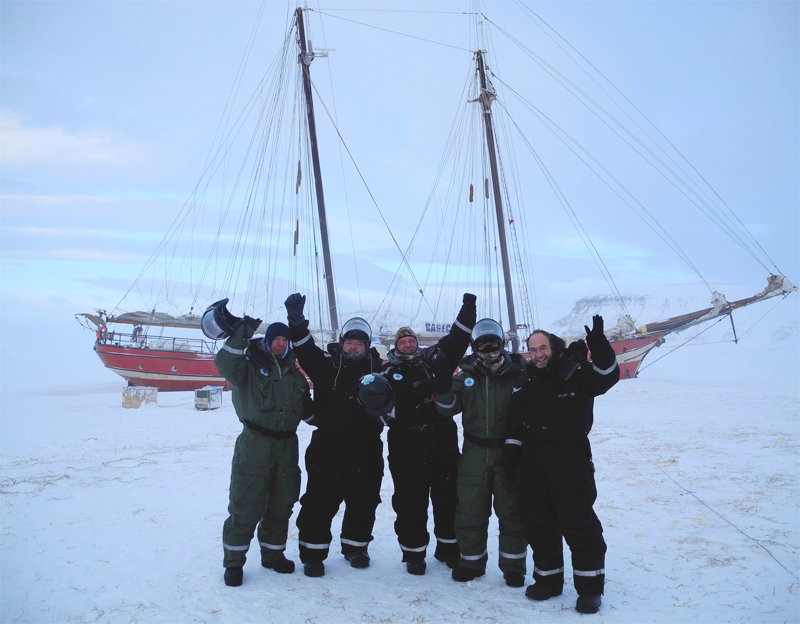 While this was happening, gale force winds were whipping the island. Once we mounted our snowmobiles we traveled for approximately 3 hours directly into the wind. The winds combined with a temperature of approximately -20 degrees Celsius made for some very interesting weather conditions. We managed the ride relatively well with only one person falling off their snowmobile (me) and we arrived at the Noorderlicht schooner for an evening of excellent food, wine, drink, and the opportunity to sleep on a ship that was stuck in the ice.
The following morning, we left the ship and spent a good 8 hours on snowmobiles. During this ride, we saw beautiful valleys, mountains, assorted animals, and eventually made our way to the Isfjord Radio Station. Here we joined other adventurers and once again had a wonderful gourmet meal, starting with whale sushi. In these parts, you are told to never leave your group without the protection of your guide. In fact, all guides carry either shotguns or pistols so that they can protect clients from possible polar bear attack.
After a night at the radio station, we returned on an 8 hour snowmobile trip back to Longyearbyen. It was our plan to visit the pole the following day; however, we found out that the ice runway at the ice camp Barneo had split. This would mean that we would need to spend several extra days in Longyearbyen until this problem could be resolved. In fact, this did not only inconvenience us, but the North Pole marathon had to be postponed. Prince Harry of England was stuck at the North Pole and unable to return because of this same problem. We then spent some time dogsledding, as well as exploring ice caves in the Longyearbyen area. This delay was a difficult one to deal with since we had no idea at this time when we could fly to the pole or even if we would get there. We changed our airline tickets to delay our departure as long as possible but even this proved difficult. Changes needed to be made to patient scheduling back home as well as family commitments. The uncertainty also led to deep discussions. A team member (Dr. Bello) was not able to stay in Longyearbyen long enough to travel to the pole as he needed to return home. His trip to the pole was postponed and will be taken another time (with family).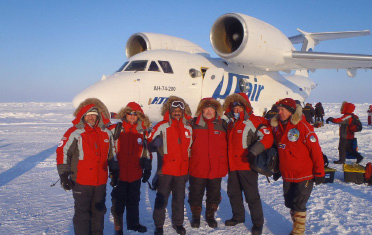 Our opportunity to travel to the pole occurred early on the morning of April 8. We were woken with instructions to be ready within an hour to travel to the pole. We quickly assembled our gear, consumed a quick breakfast and made our way to the airport. We boarded a Russian aircraft, which flew us for 2 1/4 hours up to the 89th parallel. At this point we are only about 100 km away from the North Pole. This part of the trip was run by Russian based adventurers who had set up an ice camp in this location and had created an ice runway to allow us to land our jet. The ice camp Barneo is set up each year for these purposes.
Our flight was the first flight allowed out from Longyearbyen after the runway at Barneo split. Ours became the test flight and once we disembarked, it was our plane that returned Prince Harry to Longyearbyen. It appeared Harry was in a rush to leave the Borneo ice camp since when he passed us, he was totally bundled up so you could hardly tell who he was and he had his two bodyguards with him. We called to him to wish him a good trip, but he remained focused on leaving and getting back. I guess he wanted to get to London to prepare for his brother?s bachelor party.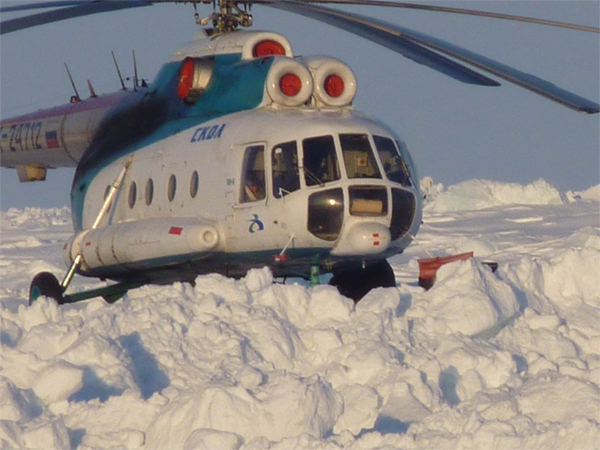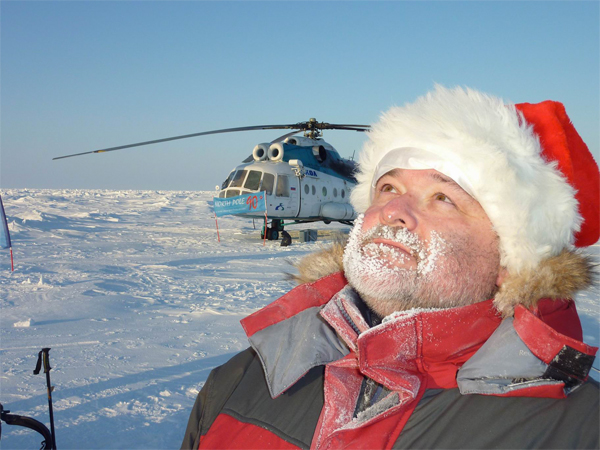 We made ourselves comfortable at the ice camp and met several people who would be working with us that day. We were given food and drink, and instructed on how to use the facilities (bathroom). We were then escorted to the helicopter that would take us the last hundred kilometers (1°) to the geographic North Pole. These large helicopters could accommodate over 20 people (no seatbelts and it was possible to open the windows while flying to the pole).
We were joined by photographers, scientists and security personnel. Upon landing at the pole, the excitement level rose significantly as we were now in the vicinity of our destination. The first point of action was to find the actual pole; since the North Pole is on ice, it is constantly moving. Using GPS devices we searched for and found the actual pole.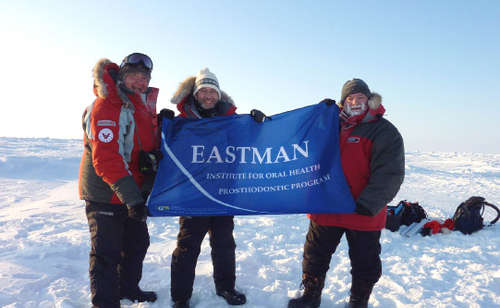 We took our photos and planted the EDC flag. One of our travelers had a wrist watch that set itself automatically based on time zone. This watch stopped working at the North Pole (there is no time zone at the North Pole.)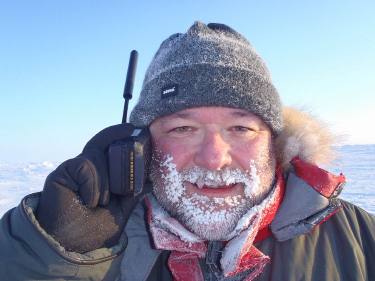 We strolled around at the North Pole taking many pictures and we drank the traditional drink of the North Pole (aurora borealis - this is a combination of champagne, vodka and North Pole snow). We tried golfing, we took pictures with flags, we called home on satellite phones and being good dentists, we also called our offices. We celebrated the fact that we had reached our destination and could cross the North Pole from our bucket list.
We are all educators and as such we presented a CE course at the Pole. The title of the program was ?Prosthodontics at the Pole?. This seminar was well attended by all dentists in the local area and I believe we can now say that we presented and attended the northern most dental seminar ever given.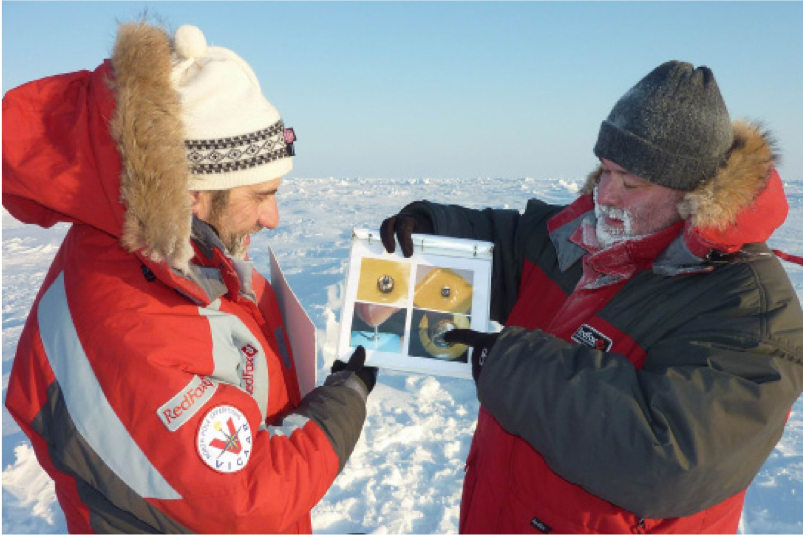 Back at the ice camp, we were once again welcomed with food and drink. Of course getting to the ice camp on the helicopter was its own experience since we had to finish any bottles of North Pole fluids that we had opened. We were all under the effects of these liquids when we arrived back to the Borneo ice camp. The Russian aircraft had returned to pick us up and we boarded the jet and made our way back down to Longyearbyen.
The North Pole portion of our trip took approximately 14 hours and is 14 hours that we will never forget. After spending one more day in the high arctic we all made our ways home on different air- craft. We made our farewells to our newfound friends and thanked Rick and Annie from Polar Explorers for being our guides and for setting up such an incredible, incredible trip.
As educators we have always spread message of prosthodontics. At this point we have spread it to the far reaches of the globe and we are now able to say that we have stood at the top of the world........ Prosthodontics on top of the world. Wait until you see where we go next............
Izchak Barzilay
Editor's note: So where do all the other prosthodontists go on vacation? Send us your story and photos to be featured here.