Robert Carmichael
Chief of Dentistry, Holland Bloorview Kids Rehab/University of Toronto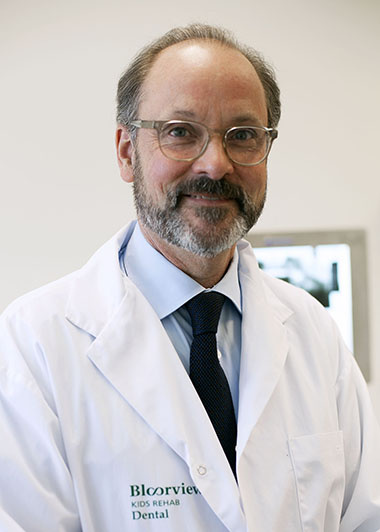 Robert Carmichael was born in Powell River, a town on Canada 's West Coast, and received his DMD degree from the University of British Columbia in 1981. He completed a 3-year residency in the Department of Temporomandibular Joint Disturbances and Removable Prosthodontics at the University of Zurich, Switzerland, and in 1985 he entered the University of Toronto Postgraduate Program in Prosthodontics. He was a Fellow of the Medical Research Council of Canada from 1987 until 1989, during which time he completed a Masters Degree in Oral Biology at the University of Toronto.
In 1989 Dr. Carmichael joined the dental staff of the Bloorview MacMillan Children's Centre (renamed Holland Bloorview Kids Rehabilitation Hospital), and in 1991 he joined The Hospital for Sick Children. From 1995 until the closing of its dental department in 2002, he was on staff at the Toronto General Hospital . He has been on the teaching staff at the University of Toronto Faculty of Dentistry since 1985, and since 2000 has held the rank of Assistant Professor. Since 2007, Dr. Carmichael has served as Chief of Dentistry and Director of the Ontario Cleft Lip and Palate/Craniofacial Dental Program at Holland Bloorview Kids Rehabilitaion Hospital. He also serves as Director of the Holland Bloorview/University of Toronto International Team for Implantology Scholarship Centre.
Dr. Carmichael practices prosthodontics in adults and in children, adolescents and young adults with congenital and acquired craniofacial and dental anomalies. His expertise in ranges from treatment of cleft lip and palate, to congenital absence of teeth - alone or as part of a syndrome, to trauma, and to restoration of tumor ablation defects. He has also developed a strong interest in the treatment of developmental dental anomalies such as amelogenesis and dentinogenesis imperfecta, and in the treatment of acquired dental anomalies. Dr. Carmichael also has a major interest in the correction of speech defects in patients with cleft palate and other forms of velopharyngeal insufficiency.
Dr. Carmichael's personal research focuses on craniofacial applications of dental implants in pediatric and young adult populations.

Practice
Holland Bloorview Kids Rehabilitation Hospital,150 Kilgour Rd.,
Toronto, ON
Canada M4G 1R8

TEL: 416-424-3872
E-mail: rcarmichael@hollandbloorview.ca